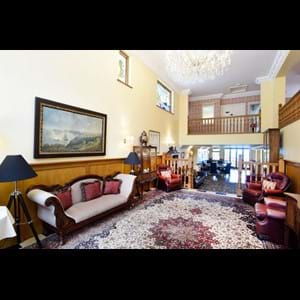 The Great Hall starts with a grand double height entrance overlooked by the second floor gallery and extends the length of the house with french doors opening on to the Great Hall Terrace for the spectacular seaview.
This a fabulous social area. perfect for afternoon tea, lunch and pre-dinner drinks, and fine dining for a small party on the stunning marble table looking out to sea.
On the other hand, you could just relax in one of the armchairs, read a book, play a game of chess, do a puzzle. All such amenities are on hand with plenty of chairs and tables for everyone including a selection of books in the library, puzzles, chessboard and playing cards.
If you have come to Waterwynch for s Special Occasion, the Great Hall and its terrace is most definitely the place for your champagne reception!