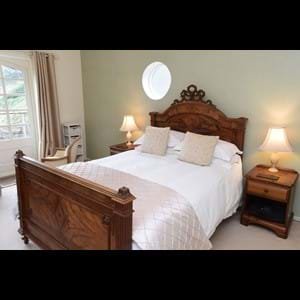 Adjacent to Master Balcony and accessed from the Gallery on the second floor, this gorgeous balcony room has a beautiful king size bed from which you can laze and gaze at the sea and the cliffs. 
The bedroom has been configured to create a comfortable seating area at the balcony end and dressing area at the bathroom end of the room.
Tha balcony leads straight out onto Look-Out Terrace and the steps down to the Great Hall Terrace.
Room Summary
Second floor with balcony with seaview opening onto Look-out Terrace overlooking Great Hall Terrace

En suite rain-head shower over bath

2200 watt hairdryer is in the drawer labelled as such